Vandy Vape Kylin M RTA
Original Price $44.99, Now Only $30.15
Please log in to see the lower price.
Vandy Vape Kylin M RTA is a newly designed rebuildable tank atomizer of Kylin series. It has 24mm in diameter and holds 3ml of e-juice (4.5ml with bubble tank). Honeycomb intake airhole and trapezoidal airflow intake channel gather vapor and will make you experience the excellent flavor. The deck is quite easy to build with mesh coil. With long service life mesh coils, Kylin M RTA will bring you unprecedented vaping experience.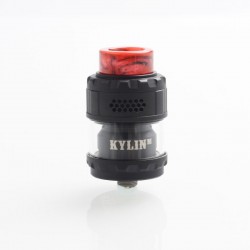 GeekVape Aegis Solo Kit
Original Price $63.00, Now Only $49.49
Please log in to see the lower price.
Please Note: This product can not ship to Germany due to the TPD policy.
The GeekVape Aegis Solo Kit consists of GeekVape Aegis Solo Mod and Tengu RDA.
The Aegis Solo is a compact version of the original Aegis, it is smaller, lighter and more durable. Powered with the Latest AS-100 Chipset that has incredible accuracy and stable power output, the Aegis Solo is able to produce up to 100W power with a single 18650 battery (NOT INCLUDED).
Included in the kit is the GeekVape Tengu RDA which features an easy-to-build innovative deck, Honeycomb airflow system, concealed airflow adjustment system and two ways of refilling (dripping and squonking). Delrin drip tip and PMMA drip tip are included. The 24mm Tengu RDA will bring you smooth and even controllable airflow with its honeycomb side airflow inlets design.
YFTK Stratum Zero Stratum 0 MOSFET Tube Mod Clone
Original Price $27.99, Now Only $26.29
The YFTK Stratum Zero Mod Clone is made from 316 stainless steel. It features an ergonomically designed body and a Mosfet that provides maximum protection on all the aspects for vapers, like protection from reverse polarity, short circuit protection. The mod is powered by single 18650 / 21700 battery (NOT INCLUDED).
Cthulhu Tube Dual MOSFET Semi-Mechanical Mod
Original Price $33.99, Now Only $29.99
Please log in to see the lower price.
The authentic Cthulhu Tube is one of the safest tube mods on the market. It comes with Insulators and dual MOSFET chip to support 0.1ohm and max 40A current. The battery will not short circuit even if the wraps are broken. Two vent holes are close to battery positive side. The chip will stop working when atomizer short. It also has reverse battery protection. There is a lever on the bottom that acts as a safety lock. Unscrewing it a little can lock the mod. The mod supports single 18650 and 18350 battery (NOT INCLUDED). It supports 22mm and 24mm atomizer.
New waterptoof mosfet. The connector pin material is changed to phosphorus copper and add edsilicone pad, adjust circuit parameter (to reduce fire-delay, and improve the yield of good chip), and add liquid proof coating.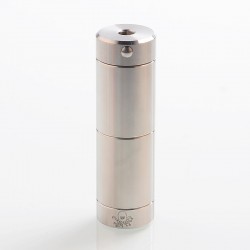 Typhoon GT4 RTA Clone
$23.99 In Stock
The Typhoon GT4 RTA Clone is a 26mm rebuildable tank atomizer with 5ml of juice capacity. It is constructed from 316 stainless steel. The build deck comes with dual post design for easy single or dual coil building. The air enters via the bottom air slots and travel up to the bottom of the coils, providing pure flavor and massive cloud production.