SXK VWM Integra RTA Clone
Original Price $24.90, Now Only $20.99
The SXK VWM Integra RTA Clone is a 22mm rebuildable tank atomizer with 4.2ml of juice capacity. It is constructed from 316 stainless steel and PC. It features recessed build deck, reduced evaporation chamber, and various side airflow combinations from tight MTL to restricted DL with the stock AFC ring.
GeekVape Aegis Solo 100W TC Mod
Original Price $44.00, Now Only $37.39
Please log in to see the lower price.
The Aegis Solo is a compact version of the original Aegis, it is smaller, lighter and more durable. Powered with the Latest AS-100 Chipset that has incredible accuracy and stable power output, the Aegis Solo is able to produce up to 100W power with a single 18650 battery (NOT INCLUDED).
SMOKTech SMOK Trinity Alpha Resin 1000mAh Pod Starter Kit Standard Edition
Original Price $30.99, Now Only $30.85
Trinity Alpha, the new open pod system by SMOK, is in the shape of square box featuring one 1000mAh internal battery and two Nord Mesh coils, boasting many novel features to deliver diversified vaping pleasures. The colorful flowing resin streaks on both sides add a touch of radiance to the device which shows its meticulous attention to detail and a fine combination of vape and art. The device has implemented an ingenious output preference function-ality offering three power modes. As for its pod, it adopts an ingenious slide-to-open type design on its filling cap to ensure everyday long-lasting vaping with a maximum e-liquid capacity of 2.8ml. Innovation keeps changing the vaping experience!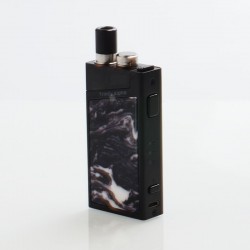 YFTK KF Lite 2019 RTA Clone
Original Price $19.78, Now Only $19.64
The YFTK KF Lite 2019 RTA Clone is a 22mm rebuildable tank atomizer with 2ml of juice capacity. It is made from 316 stainless steel and Ultem. It is designed for mouth to lung vaping. The deck is suitable for single coil build. With the adjustable bottom airflow, the RTA will bring you great vaping experience.